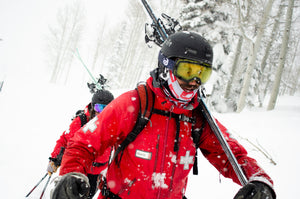 Protecting Those Out There Protecting Others
A patroller's job on the mountain means you are constantly going between hot and cold, active movement and static detail work, and more. You need a helmet that can keep up with your unique needs. Pret's lineup of professional helmets are perfectly aligned with your needs making it easy to vent excess heat, shut down vents when the weather comes in, and keep moving to keep skiers and snowboarders safe.
Looking for a helmet to use personally as a patroller? Click here to get set up on our Pro Program!
Looking for a fleet of helmets for your team of patrollers? Contact us to discuss your needs and pricing.
Keeping You Protected
You're out there keeping skiers and snowboarders safe across the mountain. Pret's leading safety tech keeps YOU protected while doing exactly that.
MIPS, ACT impact zone protection, HALEO antimicrobial foam, and more are built into every Pret helmet so you can forget about the details and get the job done.

Versatile & Easy To Use
Seamless goggle integration with any brand

RCS Fit System with single pull release for super easy sizing adjustment

Fidlock MAGNETIC Buckle to get connected fast

IONIC+ lining fabric is super comfortable and keeps the stink at bay

Removable Ear Covers so you can easily adjust for the seasons